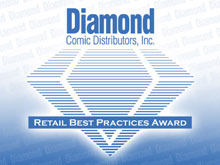 Nominate Your Store for Diamond's Spring BPA Categories!
Nominate your shop by March 5 for a chance to win an awesome award and a $200 backlist credit (retail)! Click the headline to see the Spring 2018 categories!
---

Diamond Announces 2018 Summit Workshops
Retailers attending Diamond's 2018 Retailer Summit in Chicago can acquire new skills and insights into their business with this year's slate of Summit Retailer Workshops, headlined by two guest speakers.
Sign up Now! Registration ends Tuesday, March 20th!
---